On March 1, 1904, Glenn Miller was born to Lewis Elmer and Mattie Lou Miller in Clarinda, Iowa. the family moved to Tryon, Nebraska in 1906. In 1917, the Millers moved to Grant City, Missouri where Glenn learned to play the trombone. The family moved again, this time to Fort Morgan, Colorado where Glenn went to high school. There, he distinguished himself by being chosen as the best football end in Colorado. But Glenn was more interested in music, so much so, that he skipped his high school graduation to play in a band in Laramie, Wyoming.
Miller had now decided he was going to make playing the trombone his life. He signed his first professional contract with a Dixieland group called Senter's Sentapeeds. He went on to play for the Holly Moyer Orchestra, earning enough money to attend the University of Colorado. He was there for two years, having accepted a job with the Tommy Watkins Orchestra. He spent his free time arranging music. From there, he left for Los Angeles, where he landed a job with the Ben Pollack Orchestra, noted for employing talented musicians. His housemate during this time was a new clarinet talent ---- Benny Goodman.
In 1928, Glenn moved on to New York City, where he married Helen Burger and later adopted two children: Steve and Jonnie Dee Miller. In the same year, Miller played in and arranged for the bands of Ben Pollack, Red Nichols and Paul Ash. In 1932, he organized the Smith Ballew Band and worked two years as its manager, trombonist and music arranger. In 1934, he assisted the Dorsey brothers in organizing their first full-time big band and in 1935, he organized Ray Noble's American Band.
At last, in 1937, Miller fulfilled his dream and organized his own band but early financial difficulties led to its demise. He tried again in 1938, and this time in March of 1939, his band was contracted to perform the summer season at the prestigious Glenn Island Casino in New Rochelle, New York. The location was a beautiful site on the shores of the Long Island Sound.
This break led to another important engagement at Meadowbrook, New Jersey in the spring of the same year. Both locations offered frequent live radio broadcasts and by mid-summer, the band had attracted a nationwide following. In the fall of 1939, Chesterfield cigarettes sponsored a series a radio broadcasts for the band. The already popular band became even more so.
Miller had been looking for a unique sound that would fit his band and distinguish it from all others. In 1938, he conceived of the idea of combining a lead clarinet with a tenor saxophone on the same note while three other saxophones harmonized within a single octave. This harmonic quality is particularly noticeable in his theme song Moonlight Serenade, and is representative of his musical style, which spurred the band to singular popularity and success.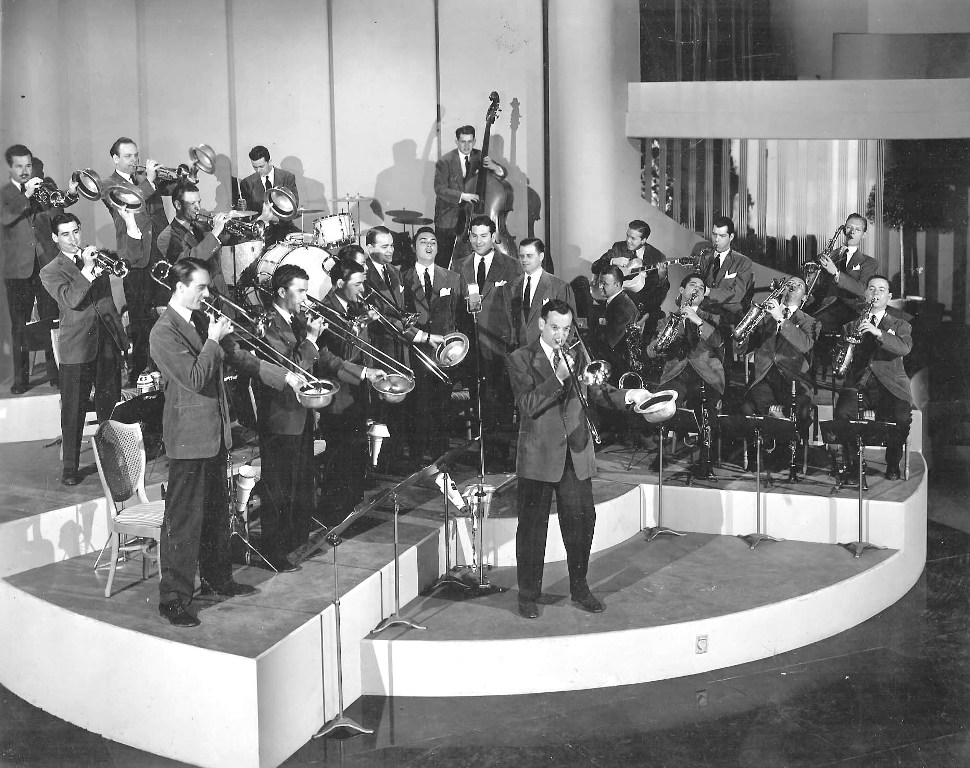 The Glenn Miller Band appeared in two films: Sun Valley Serenade in 1941 and Orchestra Wives in 1942. In August of the same year Glenn, at the height of his musical career, volunteered for the Navy but was told he was not needed. When he was accepted by the Army, he forfeited the band's weekly income of $20,000, a measure of his commitment to his country. His last civilian performance in the U.S. was in Passaic, New Jersey on September 27, 1942. It was such an emotional event that the band could not continue to play its closing theme song, Moonlight Serenade.
In 1942 Glenn Miller entered the Army with the rank of Captain and was stationed at home for the next year and a half, where he arranged music and directed a 50-member Army band. He raised millions of dollars in war bonds and attracted Air Corps recruits through his weekly "Sustain the Wings" radio broadcasts. In 1944 Glenn arranged for the band to be stationed in London, and then subsequently in Bedford, England. The day after their arrival in Bedford, on July 2, 1944, a V-1 German rocket landed on the quarters in London where the band had been staying and destroyed the building, killing 100 people. Good fortune was with the band on that day, as the band has already moved on to Bedford. During its tour of duty, the band played at 35 different bases while performing 40 radio broadcasts.
Later that year, the Glenn Miller orchestra was scheduled for a Christmas radio show in Paris. Glenn planned to travel ahead of the band to make arrangements for the broadcast. On December 15, 1944, a foggy day, he departed RAF Twinwood Farm in Clapham, England for Paris. He was accompanied by pilot John Morgan and his friend Lieutenant Colonel Norman Baessell in a UC-64 Norseman single engine small aircraft. The plane disappeared in flight. Miller and his crew were never heard from again, and the plane was never found. Miller was only forty years old. Despite the tragedy, the band performed the Christmas radio show as scheduled under the direction of Jerry Gray. On December 13, 1945, the band gave its last concert at the National Press Club dinner for President Truman in Washington, D.C.
While in the U.S. Army Air Force (July 1944 to December 1944), he received the Bronze Star for his efforts in boosting the morale of the Armed Forces and for playing his music on the BBC in an effort to influence the hearts and minds of the German youth. His contributions to the morale of those troops stationed around the world were notable. In 1973, he was inducted into the Grammy Hall of Fame for several of his recordings which included Moonlight Serenade, In the Mood and Chattanooga Choo-Choo. In 1996, the U.S. Postal Service issued a stamp in his honor.
Seventy-three years later, Glenn Miller's music lives on, and the orchestra that still bears his name today performs the original arrangements to packed auditoriums all over the country. In the short span that he lived, his unselfish contributions to our country are immeasurable.